THE URBAN SPRING SESSION
SATURDAY 4TH APRIL 2020
12PM -7PM
 CRAFT BEER,  GRITTY BLUES
&
MEXICAN STREET FOOD
We welcome you all to join us on our first FREE EVENT of 2020, The URBAN Spring Session bringing to YOU
URBAN CRAFT BEERS on KEG & CASK
GUEST CIDERS
RAW & GRITTY BLUES FROM Grizzly Rhys Morgan
MEXICAN STREET FOOD FROM Mexicali Uk
Its going to be an awesome day of URBAN CRAFT BEER, GRITTY TUNES & mouth-watering BURRITOS, TACOS & NACHO'S at the URBAN TAPROOM!
************************************************
PAST EVENTS
THE SUNDAY SESSION
SUNDAY 22ND DECEMBER
12PM - 6PM

We've been asked by many of you to open our taproom on a Sunday, so what better time of year to do so & are happy to announce our first SUNDAY SESSION!
Due to his popularity on last event we've invited Grizzly Rhys Morgan back to perform 3 live sets!
Natty's Jerk will also back again serving you their festive menu!
Of course they'll be a range of our URBAN CRAFT BEER on cask & keg, guest CIDERS & MULLED WINE!
A great way to start the Christmas Holidays! We hope you can join us!
AUTUMN EVENT SATURDAY 26TH OCTOBER 2019
12PM - 7PM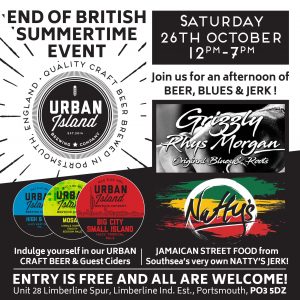 WE INVITE YOU TO JOIN US ON THE LATS DAY OF BRITISH SUMMER TIME (BST) FOR BEER, BLUES ROOTS & JERK!
INDULGE YOURSELF IN OUR RANGE OF URBAN CRAFT BEER ON CASK & KEG, GUEST CIDERS & SELECTION OF FINE WINES!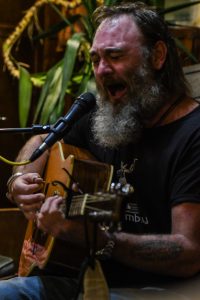 BLUES & ROOTS FROM THE TALENTED Grizzly Rhys Morgan FROM 3PM
SOUTHSEA'S VERY OWN Natty's Jerk WILL BE SERVING THEIR TASTY JAMAICAN STREET FOOD, VEGETARIAN VERSION ALSO AVAILABLE!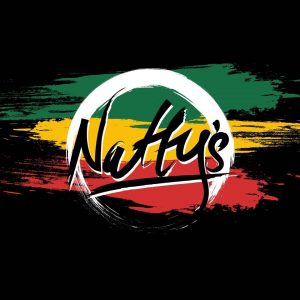 ENTRY IS FREE & ALL ARE WELCOME
AN AFTERNOON OF BEER, BLUES, ROOTS & JERK AT YOUR LOCAL URBAN TAP,  NOT TO BE MISSED!
"BREWERY OF THE YEAR" CELEBRATION
SATURDAY 27TH April 2019
We invited you to come and join in our celebrations on winning Portsmouth & South East Hants Camra "Brewery of the Year" 2019 !
Music from the great Ricky Eastman Jazz Quartet
Food from The Focaccia Co food truck to feed your hungry souls!
Presentation by Portsmouth CAMRA
______________________________________________________
BREWERY OPEN DAY
 SATURDAY 14TH JULY 2018